Winding along the Wolastoq (Saint John River), and throughout the lush forests, the Fredericton Capital Region Trails offer the perfect opportunity to explore the sights, tastes, and natural wonders of the area. Walking, running, hiking or biking, the Fredericton Capital Region trails offer everything from smooth surfaces, to challenging climbs. Get ready to hit the trails!
Trails for Everyone
The 120 km+ Fredericton Trail system includes miles upon miles of paved trail, accessible to wheelchairs, power chairs, strollers and cyclists. Enjoy a smooth stroll along Fredericton's Southside riverfront, and take the Bill Thorpe walking bridge across the river to the Northside. Continue along the paved trail to Marysville, and grab a coffee at the Landing, or opt for the shorter route, and have lunch or dinner at 540 Kitchen North, located in the Picaroon's Roundhouse on the north end of the walking bridge! From the downtown Fredericton, you can enjoy the partially paved Valley Trail which takes you west towards Hartt Island Waterpark and Resort - a rewarding bike ride for the family. Eastbound, take the partially paved Lincoln trail to enjoy some beautiful views of the Wolastoq (Saint John River).
Hanwell Recreation Park is proud to provide a 0.4km fully accessible trail just a 15-minute drive from downtown Fredericton. With the goal of making their park accessible to all, they have added a rubberized surface to a section of their trail system to ensure a smooth ride for manual and electric wheelchairs. Hanwell Park also maintains designated off-leash dog trails, so you can let Fido run free among the trees - just don't forget to stoop and scoop! There is also a wonderful playground onsite, and not far down the road you'll find First Light Distillery and tasting room, where you can stop in for a refreshing cocktail made with locally distilled spirits!
Built by generous volunteers, the New Maryland Nature Trails, located directly behind the New Maryland Centre, includes elevated boardwalks and a suspension bridge. Great for walkers and rugged strollers, with loops of varied lengths and a playground at the trailhead, this is an excellent trail network to explore as a family! Plan for a stop at Wetmore Street Pub for a delicious meal before or after!
For an ambitious and rewarding bike ride, take Fredericton's Northside trail out to the mouth of Keswick. Enjoy the views of the Wolastoq (Saint John River) and peaceful countryside as you near Keswick Kitchen. Grab one of their delectable treats before you head back into town completing your 42 km round trip! 
Short trails for Little Hikers
For a short walk, or gentle introduction to hiking, there are some excellent quick circuits in the Fredericton Capital Region. 
Let's get straight to the point - of interest. Located alongside the Trans-Canada highway within the City of Fredericton, Garden Creek Falls is a short and sweet little walk. Only steps off the main road, these falls are a small oasis in the city that are best to visit in April through October. Enjoy a 5-minute walk, and a moment of zen at the falls.
In Mactaquac Provincial Park, you can add a little excitement and education to your nature walk with critter dipping! Friends of Mactaquac have provided the park with Nature Backpacks for guests to use during the spring and summer months. These backpacks are equipped with the essentials for young explorers; binoculars, field guide, critter dipping net, critter keeper, magnifier, and a journal for fieldnotes! There are also critter catching nets kept at the Mactaquac Park Beaver pond naturalist area for anyone to use. Prime critter dipping can be done along the Beaver Pond trail, a 900 metre loop of crushed rock trail and a boardwalk! The Beaver Pond trail is stroller-friendly, and dogs are welcome on-leash. While visiting the provincial park, be sure to save some time to give Tree Go a try! With courses for kids, teens, and adults, this treetop adventure offers a fun and safe way to get a new perspective on the provincial park!
#FREDTAPTRAIL
Developed by Fredericton Tourism in collaboration with 11 beloved local breweries, the Fredericton Taproom Trail outlines the perfect way to explore Atlantic Canada's craft brewing capital, using Fredericton's established 120 Km+ trail system. The Taproom Trail will take you all across town, from the southside staples like Graystone and Grimross - to the northside pillars such as Picaroons, Trailway, and newcomer, Half Cut!
The #FredTapTrail entails a passport-style map that allows craft beer, cider, and libation fans to choose their own taproom adventure. Every time you grab a pint or flight at one of the regional taprooms, you will receive a stamp, enabling you to collect exclusive #FredTapTrail swag. Eight stamps will get you a #FredTapTrail t-shirt, and crafty connoisseurs who collect stamps from all participating partners will be entered into the grand prize draw-a Fredericton Capital Region-craftcation!
You'll need more than a day to soak up the beer scene in Fredericton, so why not book a stay at one of several hotels conveniently located along the Fredericton Taproom Trail! Learn more about the trail, study the route, and start planning your adventure here.
A Quick Climb 
We've all been there - you had a big night out exploring the #FredTapTrail, but you committed to a hike with a friend in the morning. Fulfill your commitment and burn off some of your hiking partner's endless energy with a quick jaunt up Currie Mountain. With the trailhead a short 15-minute drive from downtown Fredericton, spend 30 minutes climbing this extinct volcano, stopping at various lookouts along the way to the top, then it's all downhill! A total of 1.5km round trip, allow about an hour for this moderate hike with a 73-meter elevation gain. 
Additional gentle climbs can be completed among the trails at Woolastook Park, or try a longer climb on the Bald Peak Mountain Trail, part of the Oromocto Adventure Trails network!
A Walk in the Woods
When you're craving the solace of nature and a moment of peace, escape to Odell Park. Conveniently located on Fredericton's Southside, Odell is a popular choice for walkers, runners, and cyclists.
Odell boasts a trail system of gravel and wood chip surfaces, with several small wooden bridges to get you across the countless streams. You can work up a sweat by trekking all the way up to the Fredericton Botanic Gardens, or take it easy and stroll around the lower, flatter part of the park. Bring the kids along to see the ducks and fish at the pond, and climb around the playground. To learn more about the old growth forest that is Odell Park, take a medicine walk with Wabanaki Tree Spirit Tours. Hear ancient stories of the land as you enjoy a guided walk through the park, and learn about the local insects, plants, trees, and their use in traditional Indigenous medicine, food and ceremony.  
Killarney Lake Park also offers beautiful trails within the trees. Located on Fredericton's Northside, Killarney has over 4km of gravel trails, along with a swimming beach in the summer, a playground, and a lodge. As you walk around the lake, keep your eyes peeled for varied wildlife including chipmunks, frogs, and eagles!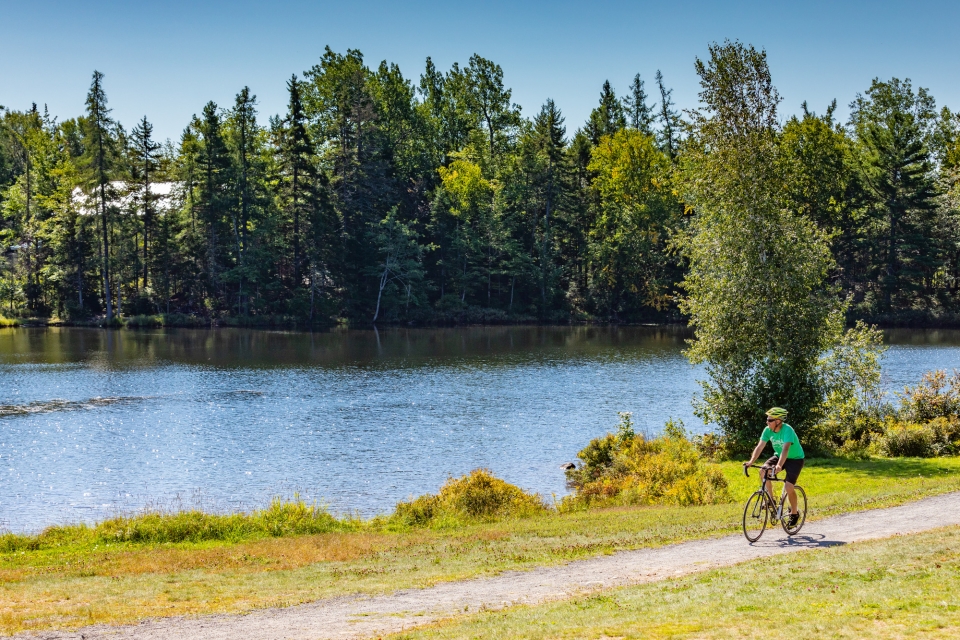 Mountain Biking Trails
Within the Fredericton Capital Region, you will find two stellar mountain biking trail systems! Woolastook is a former Provincial park featuring cross-country trails that are currently managed and maintained by River Valley Cycling. New and experienced riders can enjoy rolling terrain in the forest and along the water. Be sure to make the climb to the top of Mountain Road - it is worth the view! 
The Minto Mountain Bike trail system is built upon land that was once mined for coal. Ridges of mine tailings, varied trees and water features create a unique park that is exciting and challenging to riders of all levels. Recently established Tiny Trails offers camping along the Minto Mountain Bike trail system, complete with a licensed taproom, washrooms, and picnic tables! Book a site, or stop in for a pint post-ride!
With so many trails and hikes to explore, you'll want to stay a while! Book a hotel, campsite, or glamping dome here. Happy trails!