Just because the sun is starting to set, does not mean the fun has to stop! The Fredericton Capital Region knows how to keep the cool vibes rolling after dark with its nightlife scene. From lively tunes in taprooms and pubs to laid-back patios, take a tour of some of our favourite summertime nightlife hot spots.
Taproom Scene
Discover our local taproom scene, there is a reason we are known as Atlantic Canada's Craft Brewing Capital! Embark on a night full of fun by venturing into the region's +25 local producers and an array of unique craft breweries and taprooms, sipping your way through the city! Visit popular locations such as Picaroons, Grimross Brewery, Graystone Brewing and so many more!
Pro tip: Don't forget to check out the taprooms' social media for updates on exciting events like live music, trivia nights and more, adding an extra layer of entertainment to your tasting experience!
Soak in Patio Season
As the temperatures get hotter, enjoy the summer weather on one of our patios with a drink in hand! The Lot is one of the most well-known patios and a seasonal sensation located in Downtown Fredericton! Operated by The Provincial Lounge, it offers an array of tasty drinks and dishes perfect for a chill night with friends and family.
Hot tip: this place is only open until September, so visit before it closes for the season!
Live Music at The CAP!
The CAP is one of the most versatile places for your nightly escapades! The CAP prides itself on its vibrant music scene, regularly hosting concerts featuring talented local artists. Not only does it house a nano-brewery, a bar and a daytime record retail shop, but it is also the city's hot spot for live music events! For detailed information on the upcoming performers and events, follow their socials!
Irish Luck!
Explore our Irish pubs and immerse yourself in a world full of live music, beer and good times. In the streets of Downtown Fredericton, venture into O'Hickey's Irish Pub, a recently opened pub on Queen Street that has become an icon for its bright red paint and lively ambiance! You can also pop by Dolan's Pub, a Fredericton mainstay known for its excellent food and weekly live music performances.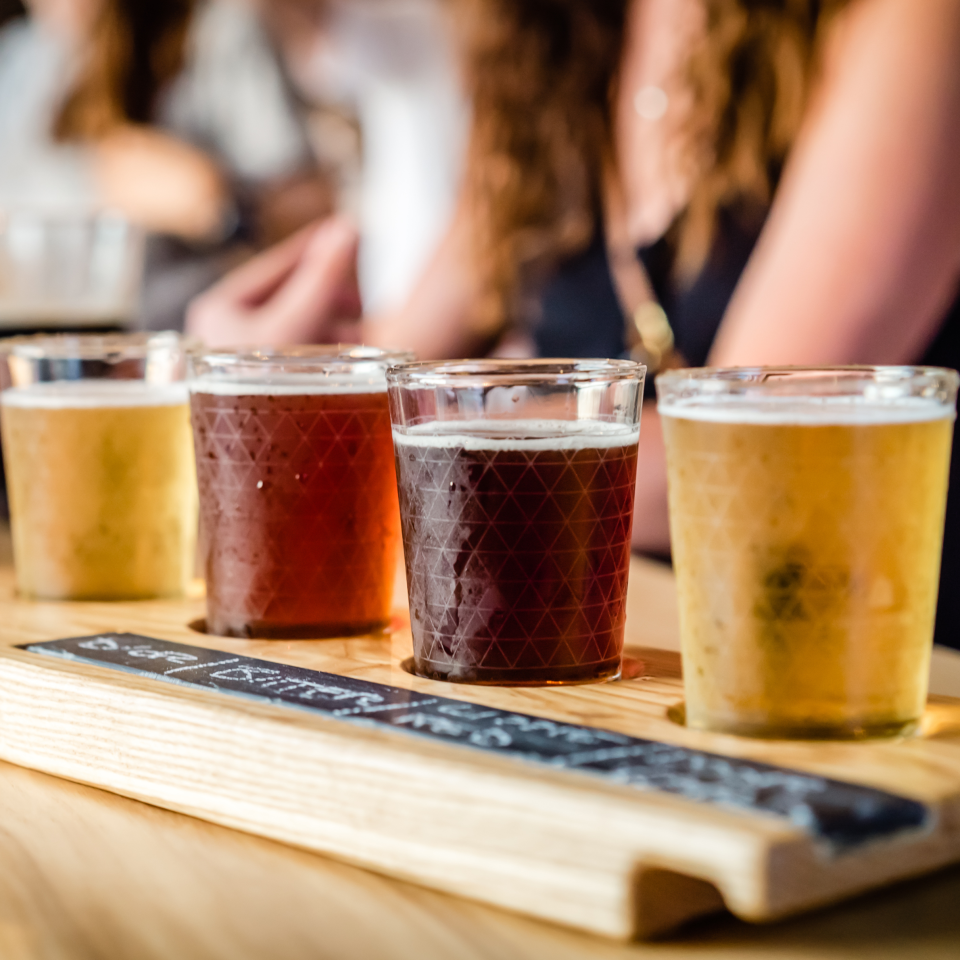 Popular Pubs!
Alongside a refreshing brew, enjoy a tasty dish and relaxing atmosphere at one of our local pubs! These locations proudly serve up a fantastic array of finger-licking bites and timeless pub food, all paired flawlessly with a pitcher filled to the brim with your drink of choice. Whether you're in the mood to pub-hop through Fredericton's lively streets or venture into the diverse options of the greater Capital Region, your night is wide open for endless fun, great food and a drink in hand!
With over 375 of the world's finest whiskeys, The Lunar Rouge Pub is a must-visit Maritimes pub! Named after the infamous rogue Henry More Smith, this establishment has secured a spot on Whiskey Magazine's Great Whiskey Bar of the World list. Beyond its impressive whiskey collection, you can also indulge in its high-quality wines, cocktail favourites and over 500 Single Malts and Premium Blends!
Also in Downtown Fredericton is The Joyce,  which features the largest selection of New Brunswick craft beers and cider in the world! Let The Joyce impress you with their collection of brews, charming patio, chill vibes and small plate options, such as umami fries, garlic fingers and chicken wings. 
Snooty Fox is a hidden gem beloved by locals and visitors alike! Indulge in a world of craft beer and cocktails or savour the unique blend of authentic English pub food with a Canadian twist.
Pro-tip: Keep an eye on their Facebook page for updates on Wing Night, Nacho Night and Burger Nights!
The best sunset, cool drinks poolside, fun rentals and a barrel sauna – welcome to the Delta Fredericton Hotel by Marriot.  Featuring the Drift Pool Bar, where you can quench your thirst with your all-time favourite drink poolside. Once you've had your fill, dive into the pool with the breathtaking sunset as your background, named one of Canada's best by Reader's Digest.  As a cherry on top, you can rent an e-scooter, bicycle or kayak at DRIFT Rentals for the full experience. Don't miss out on this local treasure trove!
If you are looking for a cozy bar, then head over to Tongue and Groove Bar and Grill in Central York! Located just 5 minutes away from Crabbe Mountain, it is the perfect place to unwind after exploring the mountain no matter the season! Indulge in a comforting meal and savour locally crafted drinks, all while basking in the welcoming atmosphere.
Soaking in the beauty of the Wolastoq (Saint John River) sits The Waterfront Pub in Nackawic, a haven for both locals and visitors seeking a fantastic dining experience, entertainment and drinks. Kick back and relax on the lively patio while you take in the amazing views.
After a day of exploring the charming village of Gagetown, relax and chat with the locals while you embrace the welcoming vibes of The Old Boot Pub. This treasured local pub boasts craft brews, tasty food and events such as live music and trivia nights.
Hit the water – at night?!
That's right - let the good times flow kayaking on the Wolastoq (Saint John River) with Wolastoq Adventures! An Indigenous-owned business and Atlantic Canada's first illuminated kayaking experience, Wolastoq Adventures takes you on an adventure to discover the river on a transparent kayak fully equipped with vivid colour-changing LED lights and waterproof Bluetooth speakers.
Elevate your experience in the captivating Fredericton Capital Region by exploring our vibrant array of local pubs, clubs and bars. The nightlife scene offers a welcoming environment so you can dance, drink and dine with your friends and loved ones. Let loose, laugh and enjoy the lively charm of Fredericton's vibrant nightlife.
To plan the rest of your stay, visit our website and find multiple accommodations, dining options and activities. Don't forget to check out our Calendar of Events so you don't miss any cool events happening this summer!