Essential to life and all its pleasures, water is an integral element of the Fredericton Capital Region. Built around the beautiful and bountiful Wolastoq (Saint John River), and sprinkled with lakes and waterways, the Fredericton Capital Region offers a confluence of aquatic activities, certain to quench any thirst for fun you may be seeking!
Gone Fishin'
If you're ready for a reel adventure, book a Fredericton Capital Region guided fishing trip!
Join licensed professional guide Marlon Prince of St Johnny Sox for guided fishing trips along the Wolastoq for groups or single anglers. Choose to fish for chain pickerel, musky, smallmouth bass, striped bass, salmon, or trout. With no licence required for most trips, and no charge for children under 16, it's an excellent adventure for the whole family. All gear, flys, lures and food supplied.
Off the Charts Outfitters offers fishing trips departing from Fredericton, Douglas Harbour, Oromocto, Nackawic and Mactaquac Headpond. Let Off the Charts guide you across the water in pursuit of smallmouth bass, striped bass, or musky! Can't wait for the warmer weather? Off the Charts' Ice Fishing expeditions are available throughout the winter, and include lunch cooked on the ice! All gear supplied as part of the packages.
If you're not ready for a full on fishing expedition, but would like to dip your toes into the fishing scene, visit Fredericton Junction during the annual Gaspereau Run on the Oromocto River. Each May, countless gasperau fish make their way inland from the Atlantic Ocean, and can be seen and caught in multitudes, swimming against the current of the Oromocto River. A short walk from the historic Currie House, you can take part in the fun - even catching fish with your bare hands! Bring along a net, a bucket, and a fishing license if you are over the age of 16! Bag limit of 20.
I'm on a boat!
From small craft to houseboats, the Fredericton Capital Region offers all sorts of boating adventures.
Lakeway Houseboat Rentals offer a truly unique vacation experience in the Mactaquac Lake region of the Wolastoq (Saint John River). Their fleet of houseboats is fully equipped for family vacations, group getaways, or a romantic rendezvous. Enjoy the on-board waterslide, fire place, hot tub, and BBQ, or dock at the Mactaquac marina to play a round of golf and explore the provincial park! You can even
A 40 minute drive beyond Mactaquac, accessible by land or boat, the Big Axe Marina in Nackawic is a 54-acre recreational area on the Mactaquac Lake region of the Wolastoq (Saint John River) built with boaters in mind. With a boat launch, docking space, boat washing and fueling stations, the marina has seasoned boaters in mind. Forgot your boat at home? No sweat! Rent a kayak or water bike from the marina and get out on the water!
For a unique and intimate outing, plan a dreamy date, a gorgeous girls' night, or soak in the sunset alongside your closest family and friends with Beyond Expectations Sailing. Offering sailboat tours in the Nackawic area of the Wolastoq, Beyond Expectations offers 2.5 hour excursions for up to 4 guests.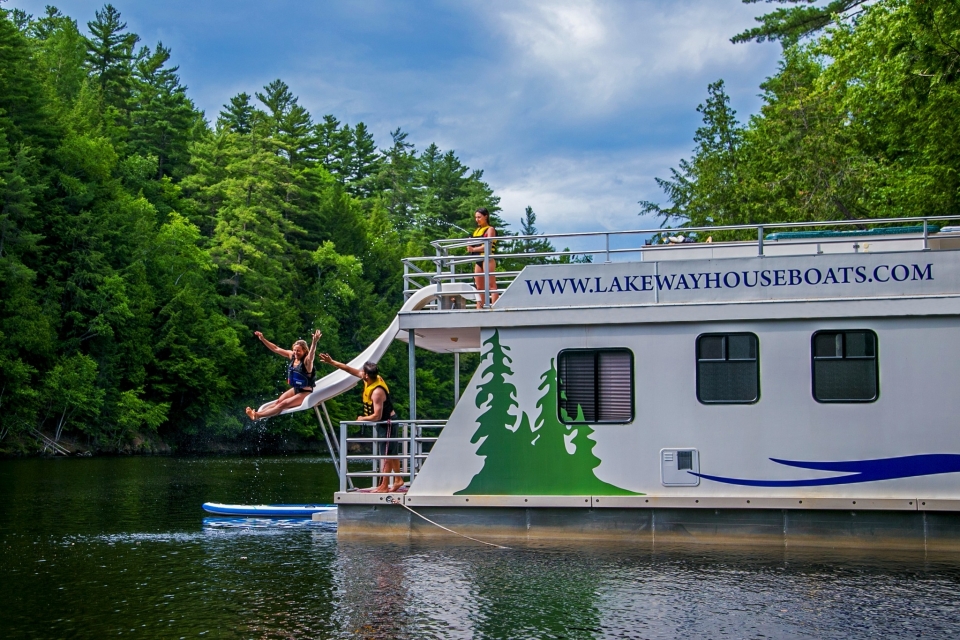 Float On
Locals look forward to tubing season every year, and for good reason! Well known as one of the most relaxing and entertaining summer activities in the Fredericton Capital Region, tubing down the Nashwaak is a summertime staple that is often enjoyed in large groups, and always loaded with laughter. Tubers can pick up their rental tubes from Nashwaak Tube Rentals, then take a shuttle up river to the designated drop off zone. From here, simply place the tube in the water, plop your sweet self into said tube, and let the gentle current take you downstream! Water shoes, water bottles, snacks and sun protection recommended for your tubing adventure!
Make a Splash with the fam!
Feeling the heat? Cool off at Hartt Island Resort's Water Park! With a 4,000 square foot heated leisure pool, over 250 feet of water slides, a designated toddler pool and a deck full of lounge chairs, it's the perfect place to cool off on a hot day in the Fredericton Capital Region! On site you will also find a mini putt, and a campground, so you can set up camp and stay a while!
For some extreme aquatic action, look no further than Quilli's Waterpark. Located in Upper Kingsclear, only 20 minutes from Fredericton, Quilli's maintains a 280 foot floating obstacle course on Kelly's Creek in Woolastook Park. This inflatable circuit will have you slipping, sliding, bouncing and laughing your way across waterslides, climbing walls and launch pads! With designated adult only nights and a separate area for ages 5 and under, Quilli's promises a fun-filled adventure for the young and young at heart!
Keep Calm and Paddle on
There is nothing quite like plunging your paddle into still waters, and gliding along with the current. Sully's Athletics and Second Nature Outdoors are two local companies that will outfit and guide you via small watercraft through the many luscious waterways in the Fredericton Capital Region.
Sully's Athletics provides private 1.5 hour Stand Up Paddleboard (SUP) tours in and around the city of Fredericton. Each outing begins with an introductory lesson by a certified instructor, then carries you on to calm waters for a SUP adventure! When you paddle with Sully's, all equipment is provided and no experience is necessary!
Second Nature Outdoors offers several experiences on the water. With two locations and a fleet of canoes, kayaks, and Stand Up Paddleboards, Second Nature knows all the best spots to paddle in the Fredericton Capital Region. With Second Nature, you can try anything from an introduction to kayaking, to a SUP Yoga Class at Killarney Lake, to a full day paddle from Fredericton all the way to Oromocto on the Wolastoq! Along with their unique expeditions, Second Nature also hosts customized group tours.
Which way to the beach?
For a classic day at the beach, you'll want to head to Killarney Lake or Mactaquac.
A stone's throw from downtown Fredericton, Killarney Lake is located on Fredericton's northside. In addition to the swimming beach, Killarney Lake offers over 4 km of multi-use trails, an open recreational area, playground, and the Killarney Lake Rotary Centennial Lodge.
A prime camping, hiking and golf destination, Mactaquac Provincial Park, 20 minutes from Fredericton, has a swimming beach amidst their countless additional activities. This sandy, calm, freshwater beach on the Wolastoq (Saint John River) is a result of the 1969 construction of the Mactaquac Dam. Today, it is a haven for swimming, windsurfing, and canoeing.
These are just a drop in the bucket of the water activities found throughout the Fredericton Capital Region. For more ideas on how to make waves during your visit, see our activities page.