Planning a family visit to the Fredericton Capital Region?  With so much to offer it can be hard to decide where to go and what to do! From adventurous activities, to educational exhibits, and cultural experiences – the Fredericton Capital Region has something for everyone! Here are some  family favourites to help you plan your next trip.
1. Lighthouse on The Green
615 Queen Street
540 Kitchen's Lighthouse location is found across from the downtown docks, and right off of our extensive trail system. It's also host to an ice cream shack so you can treat the kids (and yourself!) on your pit stop from boating on the river or biking the trails. As a structure, it provides an idyllic maritime backdrop if you're thinking of getting some summer snaps.
2. Splash Pad Fun
50 Woodstock Road
Make the most of our sunny summer weather with the kids! Located in the expansive Wilmot Park, just off of the Woodstock Road is the Fredericton Capital Region's largest splash pad. The grounds of Wilmot Park are home to a number of recreational amenities, including a large playground, tennis courts, lawn bowling facilities, basketball courts and a bandstand. It's a great spot for the kids to burn off some steam, all while staying cool in the summer sun! Added bonus- the splash pad is free to use!
3. Second Nature Outdoors
63 Brunswick Street, Fredericton and 992 Onondaga Street, Oromocto
With a host of equipment, you can rent sailboats, kayaks, bikes and paddleboards from the Second Nature Outdoors Fredericton location! Making the most of our family fun adventure, we decided on a two-hour canoe ride. We chose to explore a nearby stream system located across the river from the Second Nature shop. After a quick 10-minute paddle across choppy waters, we found ourselves in a tranquil inlet, shrouded by ancient trees and the sound of songbirds. At one point we even had a close encounter with an eagle which flew overhead. It doesn't get any more New Brunswick than that! Second Nature Outdoors also offers rentals and tours in Oromocto, allowing you and the family a chance to explore the Oromocto River!
4. A Visit to Kings Landing
5804 Route 102
Referred to as a living history museum, Kings Landing is an experience to behold for both young and old. Located in Prince William, the "village" was set up to preserve the history of the area, and is filled with historic buildings, costumed characters, and family friendly farm animals! You can even take free horse and wagon rides around the grounds to visit various points of interest. Learn all about how New Brunswick Loyalists used to live, create, and survive by visiting an array of operational sites such as the blacksmith shop, the hydro-powered saw mill, and the village store (which is full of oddities and old-fashioned candy!). You can truly spend all day here – it's a fascinating learning experience and a highly recommended excursion for all!
5. Science East
668 Brunswick Street
Making science fun, Science East is the most active public science and technology educational organization in New Brunswick. Looking for a fun and education experience for the kids? Look no further! Science East has Atlantic Canada's only outdoor science playground, full of exciting exhibits that will delight children and adults alike! Explore their big ship play structure, various water exhibits, monkey around on their climbing wall, or take a spin in the human gyroscope!
6. Kingswood Entertainment Center
1700 Hanwell Road
If you are looking for a rainy day activity, you're sure to find it at Atlantic Canada's largest entertainment center. Located in Hanwell, there's something to keep everyone happy at Kingswood Entertainment Center. Amongst the entertainment offerings, they have an extensive arcade, inflatable obstacle course, toddler play zone, laser tag, and 30 bowling lanes.
7. TreeGo
1439 Route 105
For those who are looking for an adventurous family activity, check out TreeGo Mactaquac! Just 20 mins outside of Fredericton, this aerial adventure course is a challenging and exciting experience that is sure to get your adrenaline pumping. Zipline from the majestic treetops and enjoy the great outdoors while flying high over the pristine waters of the Wolastoq / Saint John River. TreeGo has courses that are suited for children, teens, and adults alike!
8. Mactaquac Beaver Ponds
Route 105
This free activity is a great for the entire family. With Mactaquac Park's varied trail systems, you can choose from short hikes that take you along waterways, to longer treks that bring you through the woods. We chose to explore the Beaver Pond Trail which is perfect to keep the kids entertained. They have a net station and various information boards located on the shores of the pond to guide children in identifying and catching various fish and fauna.
9. Quillis Family Fun Water Park
5171 Route 102
Located near the ever popular Woolastook Campground, this is a unique activity for the family to experience. Set up off the sandy banks of the river is a large inflatable obstacle course that will bring you endless fun and belly laughs.
10. Skinny's Scoop and Petting Zoo
336 Route 105
Open for the summer season, Skinny's is a well-known roadside ice cream stand located in Keswick Ridge. Take the kids for a spin through the idyllic countryside and pop by this hidden gem for a quick bite, slushie, or old-fashioned banana split (their menu is extensive!). Scattered around the property are various play structures and swing sets, as well as friendly farm animals like goats, pigs, chickens and turkeys.
11. Clay Café
356 Queen Street
Another great rainy day activity is a visit to the Clay Café in downtown Fredericton. Choose from a varied array of clay ornaments and dishes (over 300+ options!), then sit back, relax and paint! Feeling peckish afterwards? Pop into the Donut Bar next door and treat yourself to a decadent dessert!
12. Unplugged Board Games Café
418 Queen Street
Located in Downtown Fredericton, Unplugged is in a prime location for you to settle in for some family boardgame battles after some downtown exploring! With over 500 games to choose from, this spot is a no brainer for some family fun.
13. Calithumpians Outdoor Summer Theatre
168 Church Street
Located on the Cathedral Green (corner of Church and King Street) is Fredericton's renowned youth theatre troupe! Here, you'll find almost daily performances by The Calithumpians. Geared toward younger audiences, the Calithumpians put on shows that focus upon heritage interpretation and educational theatre.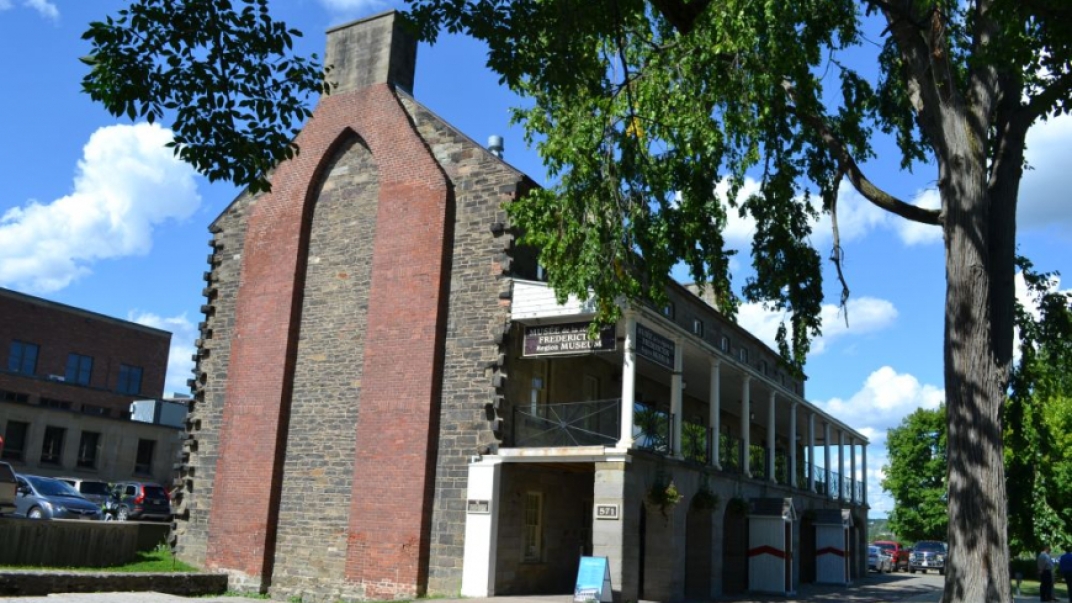 14. Fredericton Region Museum
571 Queen Street
Learn about the history of the Fredericton Capital Region and central New Brunswick through the museum's guided and guided walking tours of Fredericton's downtown historical sites. Each summer, they also play host to an Artist in Residence program that has become a popular attraction in itself. The Museum is also the home of the famous Coleman Frog, the 42 pound wonder that lived in Killarney Lake 100 years ago.
15. NB Sports Hall of Fame
503 Queen Street
Pay a visit to New Brunswick's only Sports Museum where you can learn all about the stories of New Brunswick's most inspiring athletes. Located on Queen Street, the facility is within close proximity to the ever-growing food and beverage scene of the city's downtown hub. Why not take a tour and plan to visit their interactive sports simulator after grabbing a bite downtown?
Are you planning a family adventure this summer? Whether you prefer a hotel, B&B, inn, or campground, you can find the perfect accommodation for your family unit in the Fredericton Capital Region! Lock in your lodgings, and start planning your family excursions here!