Day 1
Arrive in Fredericton, New Brunswick's capital city, nestled on the banks of the Wolastoq (St. John River). One of Canada's prettiest cities, the region has a thriving community of makers and thinkers. There is history and culture everywhere you look, along with a homegrown spirit of curiosity. Amidst -tree-lined streets, Victorian homes and riverside walking trails and green space find National Historic Sites, galleries and museums and a calendar full of music & festivals. Natures' adventures like kayaking, golf, houseboat rentals, geo-caching and biking are plentiful. You'll find our region and people are enriched with soulful energy that welcomes visitors to share, embrace, and discover where it may lead.
Get to know the city with a Guided Tour of Fredericton.
Take a walking tour of the Historic Garrison District and Historic Downtown or a step-on driving tour of the city. 
Historic Garrison District
Set behind a wrought iron and stone fence along Queen Street, the Garrison District recalls the drama and glory of our military past as a garrison town. Today it is a place to discover the history and diverse heritage of central New Brunswick as a meeting place for Indigenous Peoples, Loyalists, Acadian (French), and other European settlers. 
The popular weekly Garrison Night Market takes place Thursday nights from June to September with 100 + vendors, food and entertainment. 
Leisure time
Fredericton's small size makes it easy to navigate the downtown by foot, along the flat sidewalks or riverside trails that connect to several attractions and activities. There is a good mix of free historic sites like the Legislative Assembly of New Brunswick or the Christ Church Cathedral, and unique boutiques, artisan studios, smaller galleries and cafes all very close to each other .
Group Dinner at one of several group friendly restaurants in the city. 
Contact me for current detailed info on uptown, downtown or northside restaurants who can work with your group size, tastes and budgets.
Day 2
Spend the  morning  in the past with the first Loyalist settlers to the Saint John River Valley at this award-winning living history museum representing 19th century life in rural New Brunswick. Visitors can truly experience the 1800s - chat with the women in the homes harvesting herbs, cooking over an open fire, spinning wool into yarn and making soap. The men can be found in the fields and barns hauling hay with an ox cart, cutting wood with a horse-powered saw, and milking the cows by hand.
Lunch as a group or on own at the King's Head Inn
Stay for a hearty lunch at the 1855 King's Head Inn in the heart of the village. Enjoy the warm atmosphere, delicious home cooked meals featuring both traditional and modern fare, served by costumed wait staff. Kings Landing is open Wednesday to Sunday, from early June to mid-October and in 2024 celebrates their 50th anniversary!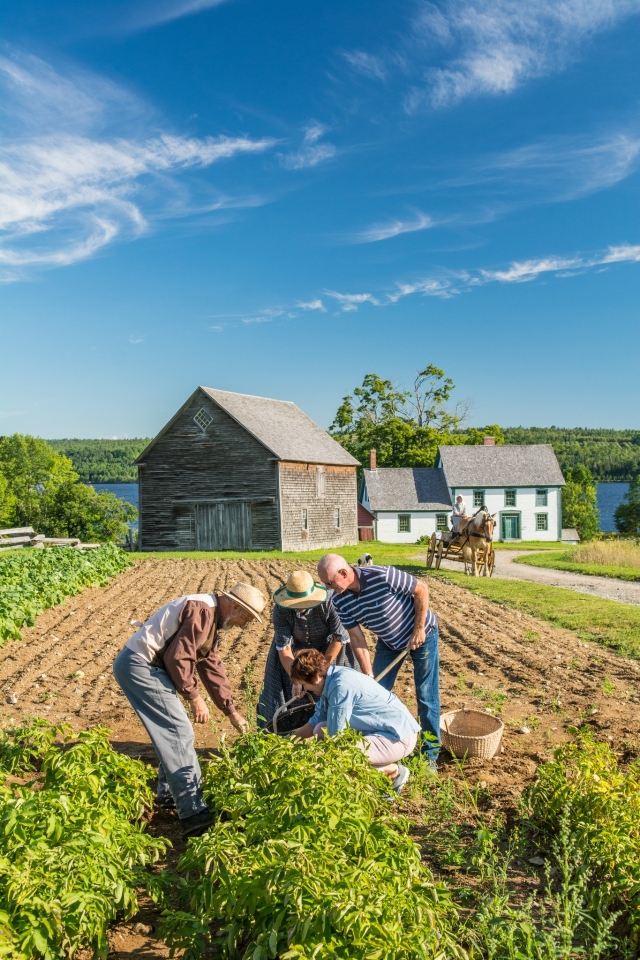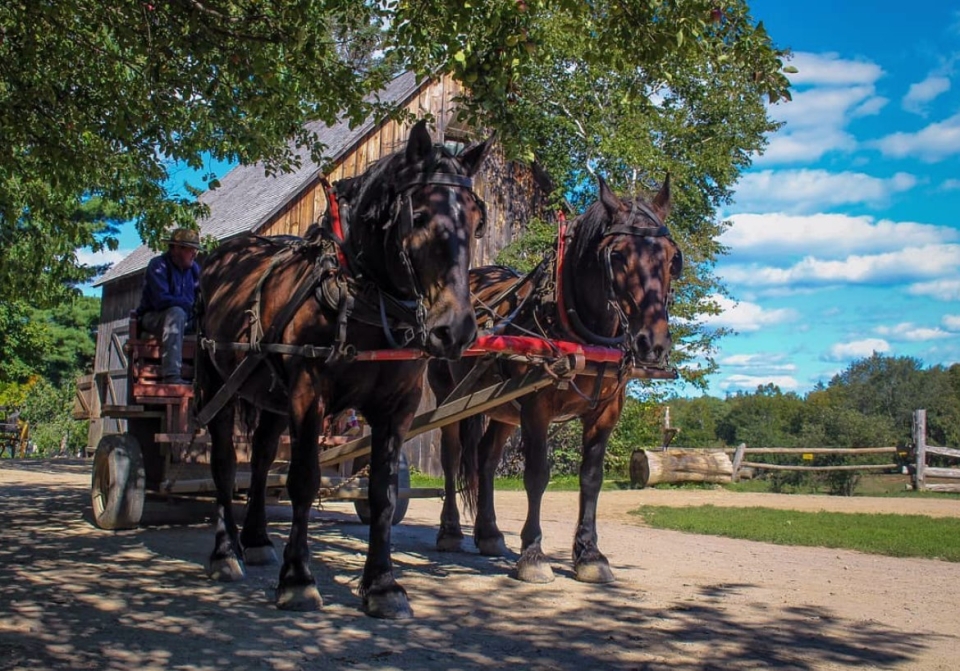 Beaverbrook Art Gallery, Guided or Self-guided Tour
The Beaverbrook Art Gallery is one of Canada's finest art museums and predominantly features works by Canadian and British masters and contemporary New Brunswick artists. The Gallery is most famous for Salvador Dalí's masterpiece Santiago El Grande, a four-meter-tall painting surrounded by three other of his works that are all part of the Beaverbrook's permanent collection.
Some of Atlantic Canada's finest artists are represented at the Gallery including Molly Lamb Bobak, Mary Pratt, Alex Colville, Tom Forestall and Yvon Gallant. You'll also find the Grandfather Akwiten, believed to be the oldest birch bark canoe in the world.
There are lots of options for dining, from ethnic restaurants serving everything from Caribbean to Japanese, lots of local fare,  or music-filled pubs for a hearty maritime meal. Fredericton is known as the craft brew capital so visiting a local taproom is the perfect place to chat with locals and enjoy local craft beer, cider or even mead. See Fredericton restaurant info here.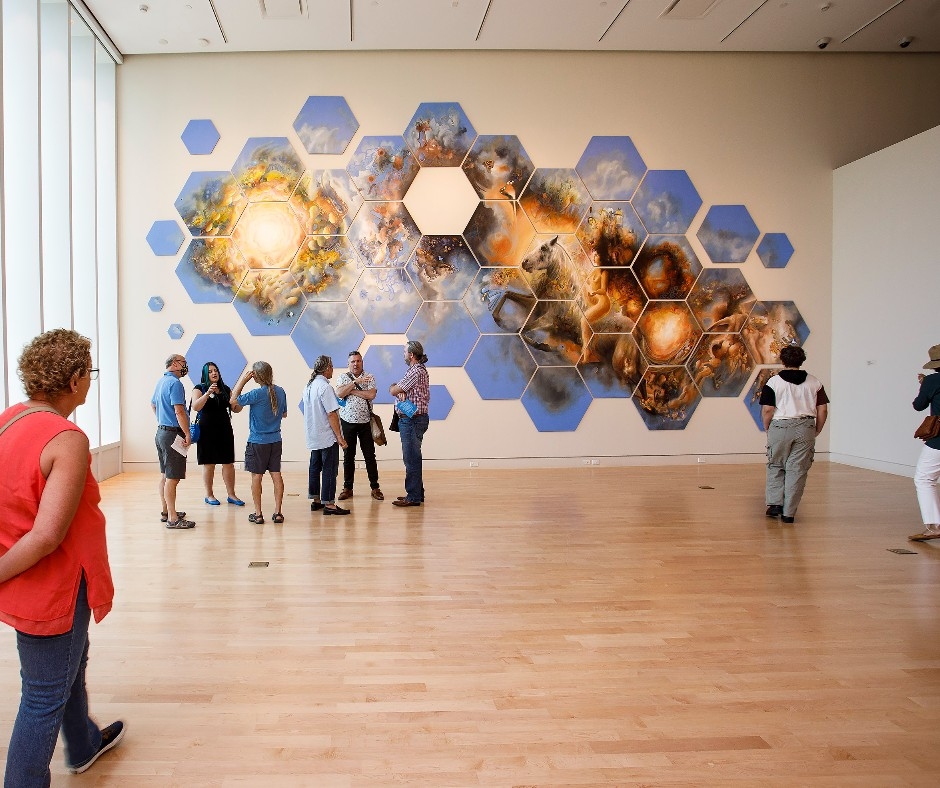 Review Fredericton's accommodations at this link and if you need recommendations for the best fit for your clients, contact Fredericton Tourism.
Mary Ellen Hudson
For details and help with planning your group's visit to New Brunswick's Capital Region, connect with Group Tourism Coordinator, Mary Ellen Hudson.
Email Mary Ellen