Explore the Fredericton Capital Region with Coreen Hildebrand, a travel blogger and photographer known as Maritimes Maven. From New Zealand to the United States, she has travelled all over the world but has a soft spot for her home —the Maritimes. 
To check out her personal blogs about New Brunswick and other Maritime provinces, visit here. Follow her ongoing blog series on our Curated Experiences page to gain inspiration for your next trip to the Fredericton Capital Region.
Arcadia is a Greek word meaning "in harmony with nature and pastoral beauty," and it perfectly describes the new larger village of Arcadia encompassing the former villages of Gagetown, Jemseg, and Cambridge-Narrows. Come along with me as I revisit a favourite place, and venture to discover many new hidden gems. I hope this will whet your appetite to follow in my footsteps or make your own plan to discover all of Arcadia's treasures.
Discover Arcadia - Day 1
Head to the former village of Gagetown. This is a place to meander. It is time to slow down, breathe the fresh air, and stroll. Gagetown is worthy of a full day of exploration. Trust me. There is more to see and do than first meets the eye. Dig in, enjoy the view, talk to the residents, learn the history, and discover why so many people move here after visiting this haven.
Begin your day at Sweet 'Evans Cakes with a coffee, and a delectable treat out on the patio. 
A mainstay here is Greig Pottery (36 Front Street), now celebrating its 47th year in business. After shopping, be sure to pop into Flo's working studio next door where she happily meets her customers as she works.
One of the few Eastern Canadian Raku potters can be found at Juggler's Cove Fine Arts & Crafts (27 Front Street). Peter Thomas has dedicated his career to creating innovative ceramics, as well as working extensively as an educator. Karen Shackleton's delightful paintings adorn the walls of the shop, too.
Maja Padrov Ceramics (3 Tilley Road) was my next studio-gallery visit. Maja creates larger and more intricate gallery pieces. Maja's work has been exhibited nationally and in Europe, North America, and Asia. Her studio gallery is open by chance or appointment.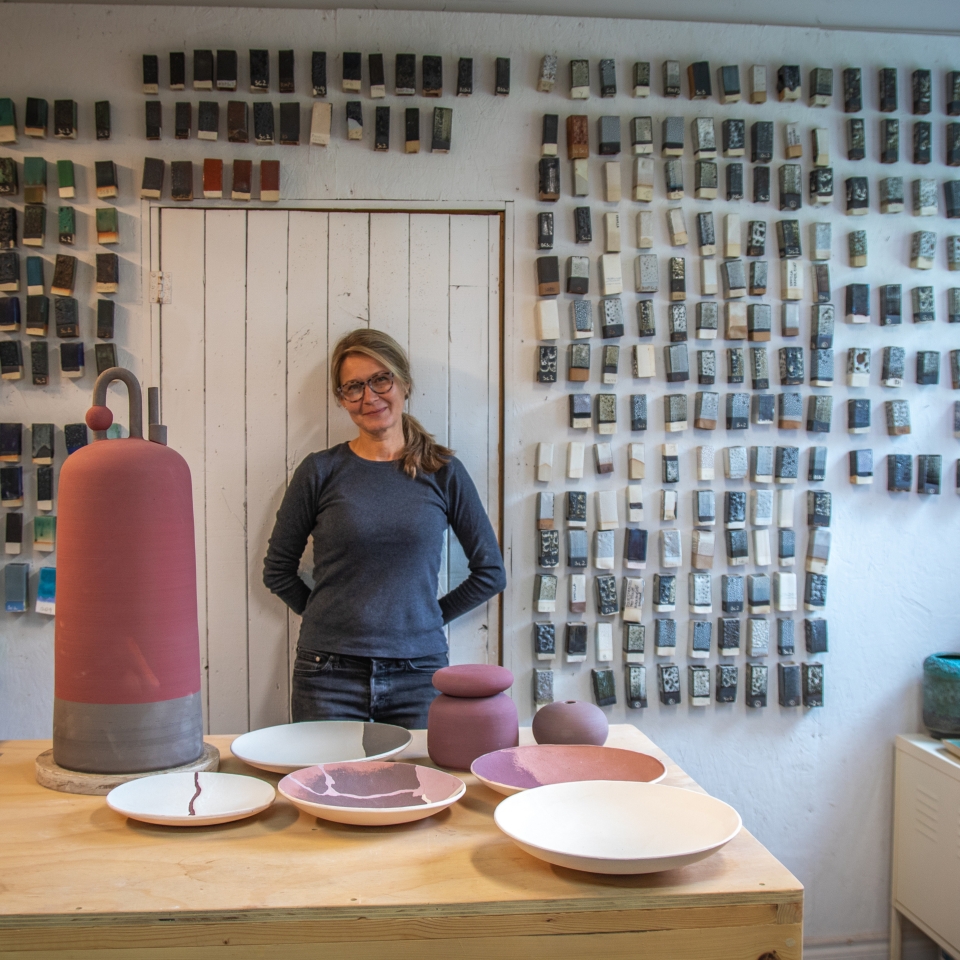 If you enjoy antiquing, pop into Rustic Reflections Antiques & Collectibles (61 Tilley Rd). Owner, Larry Tobin specializes in primitives. I love poking around Rustic Reflections. I think you will, too.
The Gagetown Farmers' Market (30 Front Street) is a small, seasonal, open-air market that takes place on Sundays in the waterfront park. Find locally grown fresh fruits and vegetables, baked goods, preserves, herbs, plants, and local arts and crafts, along with several food vendors. While in this community park, check out the granite sculpture entitled "Formations" (2018) created by Rafail Georgiev from Bulgaria. It is part of the International Sculpture Trail.
It must be 11 o'clock somewhere, so make a beeline to Gagetown Distilling & Cidery (30 Court House Road). Owners, Matt and Heather, started as fruit farmers but after watching much of their fruit go to waste, they learned how to create sustainable ciders and spirits. Find your favourite product and discover how they get the pear inside their "Pear Eau-de-Vie."
I lunched at the Gagetown Grill & Smokehouse (38 Tilley Road), which prides itself on its in-house smoked meats and its black garlic specialties. I highly recommend sharing the popular Smash Burger, as it is more than enough for two. Owners, Bruce and Laura, guarantee you will not go away hungry, and I can attest to that!
Venture to the Gagetown Marina (50 Front Street). Many boaters frequent The Old Boot Pub and Dockside Bar. It is a restaurant/pub with outdoor seating overlooking the marina and river. After your marina visit, continue down Front Street, and head to Gagetown's Historical Tourist Attractions.
Enjoy a guided tour of Tilley House (69 Front Street) - a National and Provincial Historic site made famous as the birthplace of Father of Confederation, Samuel Leonard Tilley, born here on May 8, 1818. Explore Tilley memorabilia in this 1786 residence surrounded by Loyalist and Victorian art and furniture and examine an extensive display of artifacts of Wolastoqiyik and Mi'kmaq culture. Directly beside Tilley House, is Loomcrofters - c. 1789 another Historic Site. It houses one of the most important heritage collections in the country and it is also one of the oldest buildings in New Brunswick. Discover the world-renowned hand-weaving designers and makers of the Royal Canadian Air Force Tartan and the New Brunswick Tartan, then try your hand at weaving.
Next, head to the St. John's Anglican Church (3 Court House Road) established in 1880. The original church was built in 1790. Peek at the gravestones of some fascinating historical Gagetown residents in the churchyard. Then make your way to the Orange Hall Museum, directly across Court House Road. It was the first Gagetown Grammar School and is another Local Historic Place. It was typical in the design of many school buildings from the 19th century.
Enjoy a canopied tree walk up to the Queens County Court House Museum (16 Court House Road). Built in 1836, this Provincial Historic Site is an architectural gem that held some of Queens County's most interesting court cases. Hear stories from the historic tour guide, sit in the prisoner's box and the judge's chair, research your family history and take in the latest exhibition of local culture and heritage.
The Reed & Thistle is the perfect place to enjoy an afternoon refreshment with a view. It is in the century-old Steamers' Bed & Breakfast (74 Front Street). Select a cocktail, or a craft beer or enjoy a coffee on the village's largest licensed waterfront veranda.
Gulliver's World Café (17 River Run Lane) was my dining destination for the evening. It features culinary flavours from around the world. Chef Thane Mallory and his wife, Nancy, welcome you to their restaurant (and guest suites), in a former 1860's historic farmhouse. I had a very enjoyable evening with great food, friendly service, and a waterfront view.
The May Queen Bed & Breakfast (25 Tilley Road) was my accommodation for the night. The May Queen is decorated with tasteful art and antiques and offers guests sublime comfort and modern amenities with first-rate hospitality. The back garden is a serene setting for relaxing, and Jane serves a delicious hot breakfast in the morning. The May Queen's Craft Shop is a sweet place to pick up a treasure from a wide selection of local artists and artisans.
Discover Arcadia - Day 2
Jump aboard the Gagetown Ferry - a fun and quick way to cross the Wolastoq (Saint John River) linking Arcadia on the west bank (Gagetown) with Arcadia on the east bank (Lower Jemseg). This seasonal cable-ferry crossing takes less than 5 minutes and there is no charge.
Grand Lake Meadows Protected Natural Area is NB's largest freshwater wetland and the views from Jemseg are majestic. Be on the lookout for osprey nesting platforms after you disembark from the ferry. Stop at the Fort Jemseg Monument - a National Historic Site of Canada. It marks a spot that has been fought over by the British, French and Dutch. Just around the bend, find Saint James Church - an impressive exact replica of a stone church in England. Graves of loyalist settlers can be found in the cemetery. On the corner of Ferry Road and Route 715, pop into the Ferry Road Book Place - a used book store. On Route 2 at 695 Highway, the Jemseg Lions Club is popular for its Saturday morning breakfast, and on the opposite corner - the Jemseg Community Garden, a project by the local Women's Institute and Community Friends, commemorates the Old Country Store that operated here from 1855-1987. 
Floyd's Coffee 61 (56 Route 695) - is a new coffee roaster in Arcadia. Directly across the road, Turner's One Stop (59 Route 695), is a good spot to grab a bite inside or pick up some takeaway food or home baking for later. The Jemseg Lakeview Motel (4384 Route 105) offers accommodations. Kayak rentals are available for guests and the public, so if you wish, pause here and get out on the water for a paddle.
McCabe's Ice Cream (291 Knight Rd, Whites Cove) is a boutique ice cream shop. Calories don't count here but quality does. Tim McCabe's father began making ice cream 40 years ago, then when he retired, Tim and his wife Janice took over. It is the same old-fashioned, hand-scooped, delicious, creamy, all-natural, family recipe. They also offer refreshing Italian Ice.
Lavenhop - (648 Bridge Dr. Route 695) is an agri-tourism destination nestled on 150 acres. Lavenhop provides lavender, hops and mixed produce. Enjoy seasonal U-pick-certified organic farm products. Meet owners, Bill and Jackie, harvest your beans, peas, tomatoes, and cucumbers, and enjoy their beautiful trails, and gardens with an abundance of birds and butterflies. The wildflower walks, living fence, and rows of lavender and peonies were dreamy.
Acacia Studio - (1948 Lakeview Road) and artist, Richard Flynn's surrounding property, brought visions of Monet's Garden to mind. Richard inherited this 20-plus acres of idyllic farmland from a long-lost uncle over twenty years ago. Many of his artworks have developed from the perennials he has planted in his gardens. His brilliant artwork combines several mediums and textures, often starting with watercolour, acrylic, and pastels. His studio gallery is open by chance or appointment.
Cambridge-Narrows Regional Library - (2216 Lakeview Road) is a non-profit, independent, volunteer library, housed in a heritage building (1854-58), owned by the village of Arcadia. This community hub is also home to the Visitor Information Centre which operates daily during the summer months.
The Pines Conservation Park – (1307 Bridge Drive) is an ideal spot for a picnic as there are several shaded tables. The Pines is designated a Local Historic Place for its conservation of old-growth forest. The Peace Sculpture by Fetiye Boudevin can also be found here as part of the Sculpture Trail.
The Anthony Flower House Museum - (2270 Lower Cambridge Road) is the historical home of 19th Century artist Anthony Flower. The 1818 house and Flower's art are touchstones of the past. His home tells the story of early 19th Century New Brunswick through a multi-faceted individual - an artist, farmer, father, immigrant, and community leader.
Mott's Wharf - (35 Mott's Wharf Road) is the nostalgic point where local women dressed in their finery await to board the Riverboat Majestic - the very last steamboat to operate from 1902 -1942. Riverboats were primarily used to deliver mail and supplies, for transportation, and to pick up produce from the farmers for the markets in Fredericton and Saint John. However, occasionally there was a dance or event on a boat.
Norwood on the Washademoak – (3437 Lower Cambridge Road) is a seasonal Bed and Breakfast owned by Inés von Waldow and her husband Doug Richardson. It was once a 1905 country residence built by the turn-of-the-century architect, H.H. Mott. Inés handed me a sparkling fruit drink and a slice of homemade flan cake, as I sat on her back deck with breathtaking views of Washademoak Lake, and I knew in that moment - I must return to stay overnight. I also hope to experience the Life at the Lakes Festival - which happens in mid-August every year in the area.