Explore the Fredericton Capital Region with Coreen Hildebrand, a travel blogger and photographer known as Maritimes Maven. From New Zealand to the United States, she has travelled all over the world but has a soft spot for her home —the Maritimes.
To check out her personal blogs about New Brunswick and other Maritime provinces, visit here.
Follow her ongoing blog series on our Curated Experiences page to gain inspiration for your next trip to the Fredericton Capital Region.
A trip to Nackawic is the perfect Sunday drive to enjoy all the wonders of nature. Spend a day on this bend in the river, which is rapidly emerging as a Canadian East Coast riverfront travel destination.
The best way to get there by car is the Loop Scenic Drive. Travel the shores of the Wolastoq (Saint John River) via Highway Routes 102 and 105 between Fredericton and Nackawic in a clockwise or counter-clockwise direction. I prefer the latter as it is a nostalgic upriver journey for me - our family owned a cottage on this stretch. The Loop takes about 75 minutes but build in extra time to appreciate more than a dozen breathtaking vistas.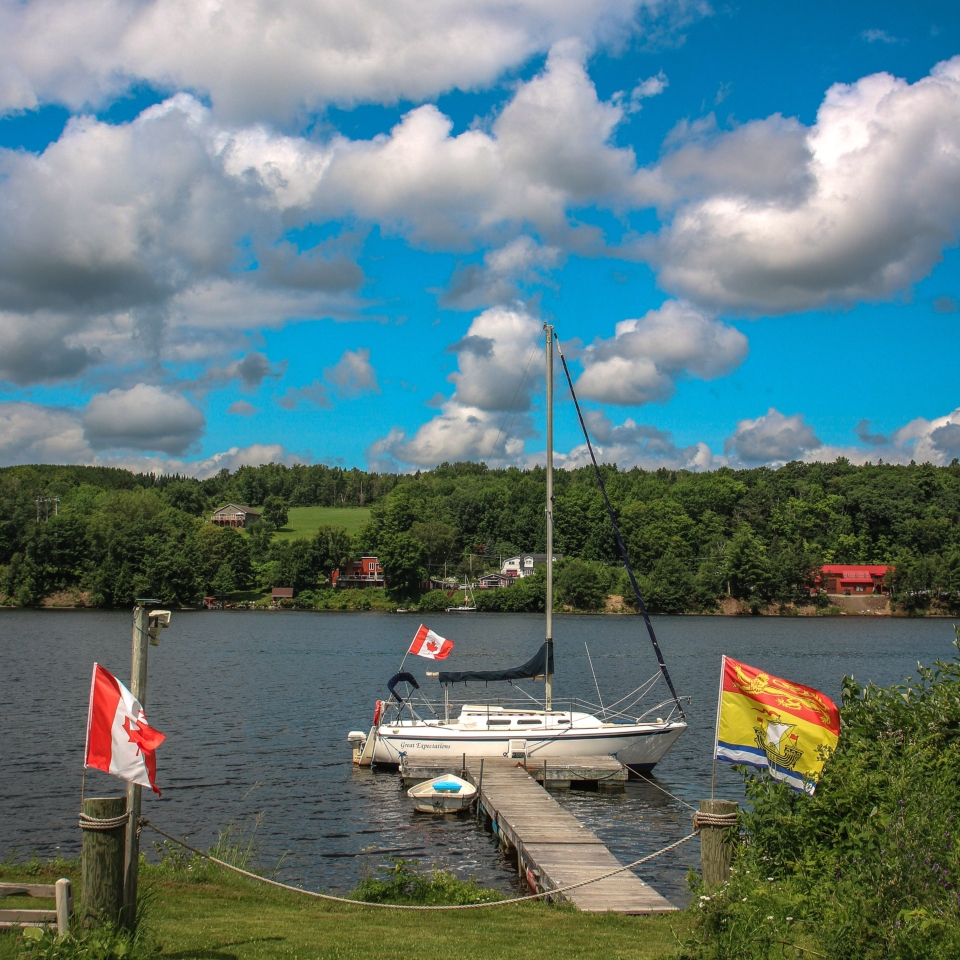 The Waterfront Pub (748 Route 105) is a great first stop for a hearty value breakfast. This is a favourite for visitors and locals alike. Enjoy friendly service inside or on the patio outside.
Golfers should make Nackawic Golf and Country Club (101 Trenholm Street, Nackawic) their next target. It is said to be "Nackawic's best kept secret" with its 5,500 yard, 9-hole, tree-lined course that winds along the banks of the Nackawic stream. Golf enthusiasts delight in the early spring season here with well-maintained fairways and greens. Grab a sandwich or share some appetizers inside the restaurant after you "play 9 in the pines." 
If you love roadside attractions, you are in for a treat. The World's Largest Axe (152 Otis Drive) was built in 1991 to celebrate Nackawic being commemorated as the "Forestry Capital of Canada." This iconic monument weighs in at more than 55 tons and soars high into the air at over 15 metres (49 ft) tall. A time capsule buried within its 7 metres (23 ft) long blade, which is in turn buried into a stump that is 10 metres (33 ft) in diameter. This massive base also becomes a stage for many theatrical or musical performances.
After you visit The World's Largest Axe, get some Big Axe swag at the waterfront concession stand, then rent a kayak for a paddle or take a hydro-bike out for a spin. It is a great way to explore the 54-acre recreational and tourism area, which is very popular with fishermen and boaters.
Nackawic is the Smallmouth Bass Fishing Capital of the Maritimes. In fact, several of Atlantic Canada's largest sport-fishing tournaments are held here yearly. Nackawic boasts some of the best fishing waters in the country.
Many tourists flock to Nackawic to enjoy New Brunswick's Cottage Country. Some even rent floating cottages. Lakeway Houseboat Vacations are very popular. I spotted a few of these fully-appointed houseboats cruising the river, some anchored in coves, and one docked for the day in Nackawic. A "cottage on the water" vacationer I met, raved about the unique and relaxing experience her group was enjoying. I have added it to my bucket list.
Nackawic has many green spaces that are ideal for picnicking, birdwatching, walking, hiking, or biking. Not to miss is the family-friendly Nackawic Nature Trail. It is ideal for those with varying abilities with its easy-going, well-groomed path. It hugs the Wolastoq (Saint John River) shoreline and meanders through a canopy of trees. Unexpected surprises greet you at every turn. Enjoy wildflowers, small babbling brooks, wooden bridges, a tiny waterfall, old potato houses being reclaimed by nature, a resting bench set below a crab apple tree, and a sweet sunset-painted kissing rock. It is a cool, peaceful, forest bathing stroll through the woods. 
For more adventurous souls – perhaps waterfall-chasers, off-road terrain vehicle lovers, mountain bikers, or those just seeking a more challenging hike, see back-woods hiking trails on Destination Nackawic and area suggestions on Hiking NB websites.
Visit Big Axe Brewery (737 Otis Drive) to enjoy warm East Coast hospitality and cold award-winning craft beer or cider. The saloon-style tasting room provides the perfect atmosphere to kick back and relax after a busy day. Come by car, truck, ATV, snowmobile, or boat! Yes, they even have their own dock. They also have an outdoor patio with a river view. The Big Axe Brewery hosts the Big Axe Craft Beer Festival every summer. It is the largest outdoor craft beer festival in Atlantic Canada with over 40 different craft alcohol producers. Before you hit the road again, wander over to the Big Axe Brewery dock to enjoy the best view of the day.
Venture down the road, cross the Pokiok Bridge, and head to Highway Route 102 towards Fredericton and enjoy the second half of the Loop Scenic Drive.
Swing down Hawkshaw Road to get one last dockside view at Sunset View Campground (45 Hawkshaw Road). This boutique-style, inclusive Rainbow Registered Accredited campground was just named one of the top campgrounds in Canada. Sunset View Campground's mission is for you to enjoy a serene, peaceful, and quiet park experience that will leave you feeling refreshed and rejuvenated. Next door, discover Beyond Expectations Sailing Tours (53 Hawkshaw Road), a 3-hour sailboat tour company, that promises a "Beyond your Expectations" experience sailing in Destination Nackawic. Perhaps these two businesses might entice you to return for a longer stay or a sunset cruise, but for the moment, enjoy their view before you continue your Loop Scenic Drive journey home.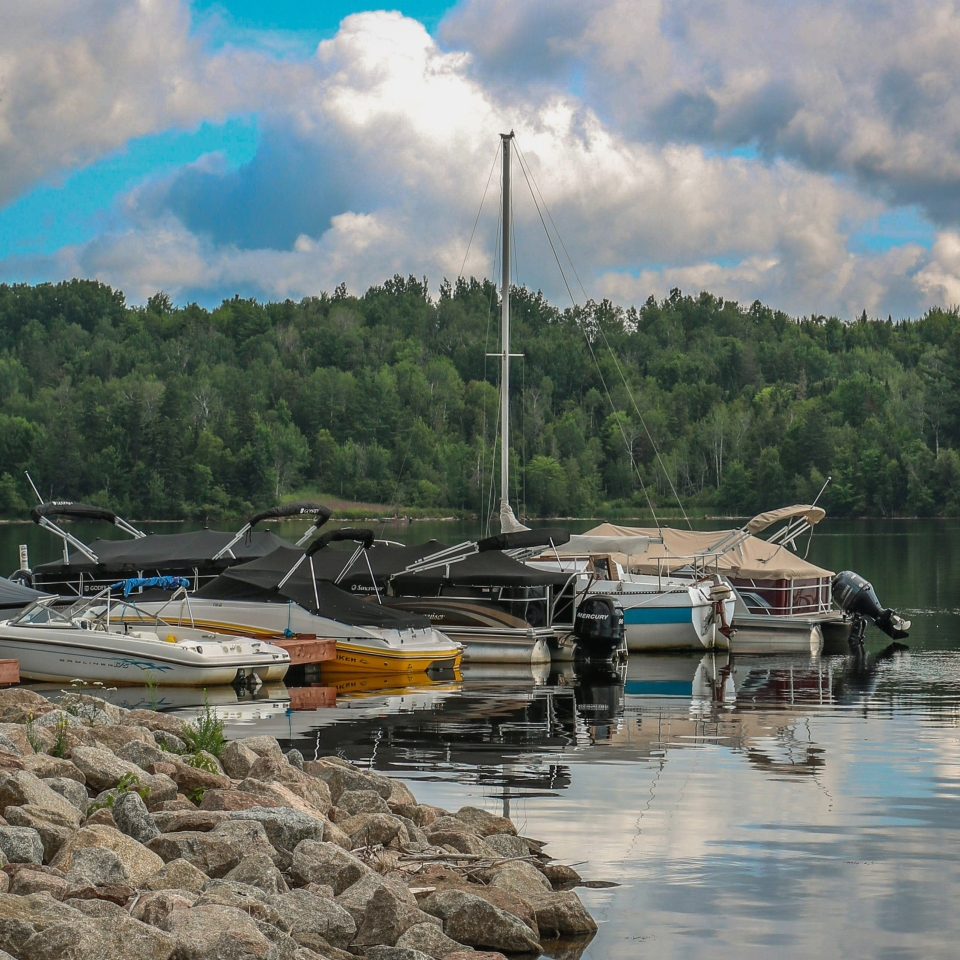 Destination Nackawic is situated in the center of New Brunswick, along the banks of the beautiful Wolastoq (Saint John River). It is a nature-lovers paradise to relax and recharge, or to get active and enjoy a round of golf, a hike, or many of its water activities. There are plenty to choose from whether you swim, fish, boat, canoe, kayak or watch it all from a floating cottage. Come and soak up all the natural beauty offered by Destination Nackawic. It is a day well spent.