With 26 producers, the Fredericton Capital Region has the highest concentration of craft alcohol producers in Atlantic Canada, making it a preferred destination for thirsty travelers. With so many options, it's hard to know where to start when planning your trip! Read on for some ideas on how to make the most of your craft beverage quest, and get a true taste of the Fredericton Capital Region.
Fredericton Taproom Trail
The first of its kind in the province, the #FredTapTrail entails a passport-style map that allows craft beer, cider, and libation fans to choose their own taproom adventure. Every time you grab a pint or flight at one of the regional taprooms, you will receive a stamp, enabling you to collect exclusive #FredTapTrail swag. Eight stamps will get you a #FredTapTrail t-shirt, and crafty connoisseurs who collect stamps from all participating partners will be entered into the grand prize draw: a Fredericton Capital Region-craftcation!
Know someone who is taking on the #FredTapTrail? Surprise them with some Brew Bucks! Of course Atlantic Canada's Craft Brewing Capital has its very own currency for purchasing craft brews from our local taprooms! Brew Bucks are available for purchase exclusively from Picaroons Roundhouse in denominations of $5, $10 or $20, and can be redeemed at any of our Fredericton Capital Region Taproom Trail partner locations: 
- Gahan House Riverside (426 Queen)
- Graystone Brewing (221 King)
- Grimross Brewing Co. (600 Bishop)
- King West Brewing & RustiCo. (304 King)
- Mama's Brew Pub (500 Brookside)
- Maybee Brewing (559 Wilsey)
- Picaroons Brewing Company (912 Union)
- The Cap (362 Queen)
- Trailway Brewing Company (280 Main)
- York County Cider (38 Main)
Learn more about the trail, study the route, and start planning your adventure here.
Craft Beer Festivals
The Fredericton Capital Region hosts numerous craft beer and alcohol events throughout the year showcasing local, provincial, and national brewers! Check out one, or all, of our unique festivals to sample sips from around the province and country, while listening to live music, and chowing down on some delicious local eats!
Sip and Stay!
In order to fully immerse yourself in the region's craft alcohol scene, you're going to need a place to rest and recharge. The Fredericton Capital Region offers dozens of options for accommodations, and many have local brews on tap! The Crowne Plaza's Joyce Pub offers the largest selection of New Brunswick craft beer and cider in the world. Their 36 taps paired with their robust food menu make them an obvious choice to start sampling the tastes of the Fredericton Capital Region's Craft Brewing scene!
Beyond the Brews
The Fredericton Capital Region tasting rooms go beyond craft beer. Once you've had your fill of hops and barley, mix it up by visiting a local distillery, cidery or winery.
Big Fiddle Still
Located in Harvey, Big Fiddle is a craft distillery that specializes in flavour-infused vodka. With plans for an expansion, expect a larger tasting room and a food truck calendar coming summer 2023!
Big Fiddle Still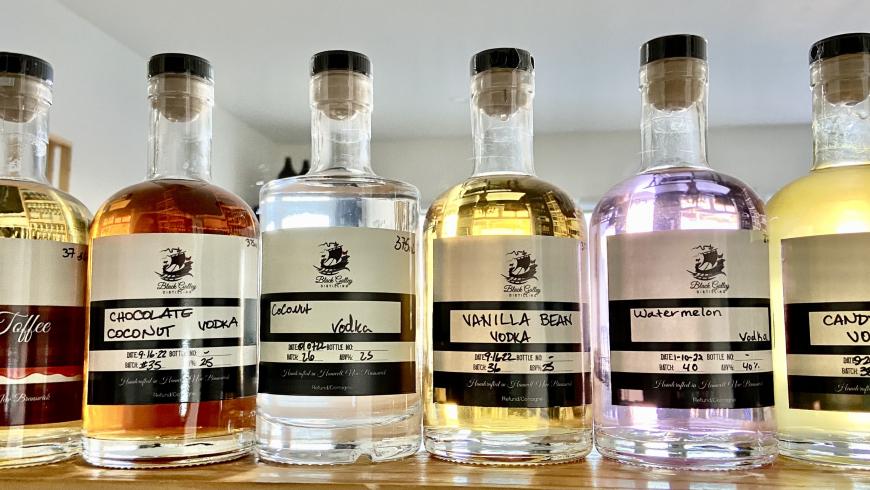 Black Galley Distilling
A small-batch distillery in Hanwell, Black Galley ferments, distills, bottles, and ages their spirits on-site. Stop in to try their vodka, rum, gin, or whisky!
Black Galley Distilling
First Light Distillery
First Light Distillery is the Fredericton Capital Region's newest tasting room. With a gorgeous indoor space and two outdoor patios, First Light is a popular venue choice for weddings and private events, and is open to the public on a regular basis. Check out their social media for operating hours, and special events such as team trivia, and food truck appearances!
First Light Distillery
We have small batch producers in the Fredericton Capital Region who are churning out great products, but don't have a public tasting room (yet!). You can check out retail outlets for local producers such as: Gagetown Distilling & Cider, Red Rover Cider, Sunset Heights Meadery, and Devil's Keep Distillery.
And keep your eyes peeled for more up-and-coming craft beer producers such as Morale Broosters, Think Brewing and 3Flip, on the shelves at the NB Liquor stores, and on tap at select bars and restaurants.
As you can see, there is lots brewing in the Fredericton Capital Region! We look forward to seeing you in the Craft Brewing Capital, and can't wait to hear about your new favourite drinks!
Please remember to enjoy your drinks responsibly.